Guess What Article for January 2006 The Journal of Antiques & Collectibles
By Bob Cahn, "The Primitive Man"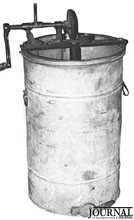 This month's column horoscope says. "May the force be with you" – but it doesn't distinguish or define. Are we talking ESP, the earth's gravity pull, brute strength, battering ram power, hurricane velocity, tornado energy or ethereal vaporizing – with a little ectoplasm for good measure?
What we're really focusing on is centrifugal force. We have a wire mesh cage imprisoned in a drum, with a hand crank gear of unbelievable speed ratio that out-performs your washing machine on spin/dry cycle. Meant to be included, but not available for the photo – a metal stand on legs. A drainage valve is at the bottom. Looks like a crude carnival cotton candy machine – minus the health inspector's sticker – but it's not, nor is it a gardeners top soil sifter.
Dimensions: 29 inches high x 18 inches diameter; gear adds 6 inches to height. Basket insert is 10-1/2 inches square x 20 inches deep. The piece is made by the Kretchmer Mfg. Co., Council Bluffs, Iowa.
A few suggested uses, including the correct one. Is it:
Bauxite (aluminum) element mine spinning ore retriever
Ice house sawdust de-clumper
Farmers wheat chaff fluffer
Laundromat prototype wet wash moisture remover
Logging camp wood chip filter
Beekeepers honeycomb separator
"Church of the Wilderness bingo ball number mixer
Skunked clothing aerator
Walnut sheller and nut meat collector
Upholsterers down cushion stuffing conditioner.
May we be the LAST to wish you a Happy 2006! Answer next month. Till then!*
*Thanx K & L Antiques (Keigh & Laura Evans) Tustin, CA
(*available for acquisition)
Answer to December's Guess What
Last month we featured a quaint and colorful piece of German folk art in the forum of six carved chick napkin rings, neatly stacked in its own double row holder.