Guess What Article for March 2003 The Journal of Antiques & Collectibles
By Bob Cahn, "The Primitive Man"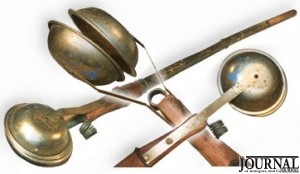 It wavers, it trembles, it quivers, it vibrates. It also reacts to outside stimuli. We hope the same goes for you as this month's GUESS WHAT presents its usual challenge.
Consisting of two bell-shaped metal cymbals, the halves are gently kept apart by a flat steel spring blade with restrictive motion. This makes for an extremely sensitive reaction. It has a high pitch with short resonance that will not damage the inner ear. Attached to a stick, an important clue to focus on is the small, inert coiled brass spring. That's all we'll tell you, except for the size: 23/4 inches in diameter on a 251/2 inch-high stake.
You have 31 days to mull this over before the next issue. The answer is included among the following:
Prototype dancing bear's battery-operated, bell-clapping apparatus;
Belly dancer's rhythm accompaniment;
Poacher's perimeter string connecting nighttime alarm signal;
Open-mouth sugar- water fly trap;
Shooting gallery backup target sound effect;
Flying bat research lab blackout labyrinth tester;
Fisherman's poke-in-the-ground trout-on-the-line "snooze alarm;"
Panhandler's street corner attention-getter
Hunting dog obedience training enforcer;
Medicine man's rain dance incantation stick.
See you next month with the mischief-solving answer. Bet you can't wait. Till then.
*available for acquisition
Answer to February 2003 'Guess What?'
If memory serves me correctly, "Three Feathers" was a blast from the past – a popular bourbon of the day. It might have helped solve last month's challenge … that, and choosing number 9: venetian blind triple-slat duster. The wing nut adjustment mid-shaft allowed for folding and compact storage.*
* Thanks to Carl and Norene Thoresen, Enfield, Conn.