Ken's Korner: 148-year-old card hits $92K at auction
News and Views from the World of Antiquing and Collecting
By Ken Hall
A 148-year-old baseball card from the earliest days of the game – a photograph taken in 1865 of the Brooklyn Athletics amateur baseball club and mounted on a card – sold for $92,000 at an auction held in February at the Saco River Auction Company in Biddeford, Maine. The card had been purchased at a yard sale in Baileyville, Maine by the seller, who wished to remain anonymous. It was in an old photo album. The man bought the album, some old Coca-Cola bottles and a pair of oak chairs – all for less than $100.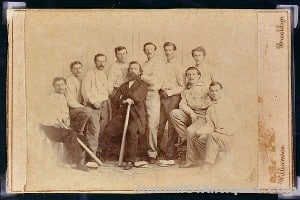 According to the Library of Congress, the card is one of only two known; the other one is in the Library's collection. It shows nine players and the team's manager. The Brooklyn club was known as a cocky and confident bunch; they won league championships in 1861, 1864 and 1865.  The most ever paid for a baseball card was a 1909 T206 Honus Wagner, which gaveled for $2.8 million in 2007.