Ken's Korner: '66 Volvo is coming up on 3 million miles
Ken's Korner
New and Views from the World of Antiquing and Collecting
On June 30, 1966, Irvin Gordon of Bay Shore, NY, paid $4,150 for a new red, two-door Volvo P1800S coupe. He was 25 years old. Today, at age 72, the retired school teacher is still driving the same car. Ten years ago, he set the world record for most miles on one vehicle (he was the first person to hold that record), so every time he takes the car out for a spin or a cross-country drive, he's breaking his own record. The car has well over two million miles on the odometer. He expects it will hit three million next year.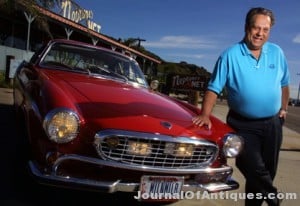 Gordon estimates he drives the car 85,000-100,000 miles each year. Most of his major road trips are to auto shows, but he'll think nothing of hopping in and driving a great distance just for a good cup of coffee. He boasted that he's had coffee in every state. It took him 21 years to reach the first million miles and 15 more to reach two million. The auto still has the original engine, although it has been rebuilt twice during the car's lifetime. Gordon won't let anyone but him drive the car. His license plate says "MILNMILER."