Ken's Korner: Anne Frank House acquires collection
News & Views From the World of Antiques & Collectibles
By Ken Hall
The Anne Frank House in Amsterdam, Holland has acquired an important collection of letters, photos and documents relating to Otto Frank, Anne's father. The collection originated from the estate of actor Joseph Schildkraut, who corresponded with Otto Frank in the early 1950s in preparation for his role as Otto in the stage play The Diary of Anne Frank. The collection includes unique letters and documents concerning Mr. Frank's attempts to emigrate to the U.S. with his family before they went into hiding from the Nazis.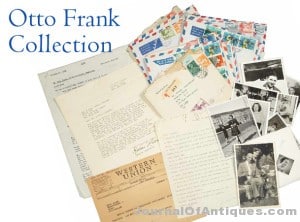 Otto Frank was the only one of the eight people who hid in the "Secret Annex" to survive the war. He was closely involved in the creation of the play, and in his correspondence with Mr. Schildkraut he answered many questions the actor had in preparation for his role. In that regard, the collection is a historically significant archive. It was at first consigned by Lenora Schildkraut, Joseph's widow, but was withdrawn and Doyle New York ended up mediating its sale to the Anne Frank Museum, with money from the BankGiro Lottery.