Ken's Korner: Branch Rickey's Bible is discovered, restored
News and Views from the World of Antiquing and Collecting
By Ken Hall
California book restorer Joanne Murphy was pondering how much work she was going to have to do on an old Bible someone had left in a pile of books donated to the Sacramento Public Library's volunteer fundraising group when she noticed an inscription: "Pirates, 1953." That was followed by a long list of signatures, one of which (Joe Garagiola) she thought she recognized. She showed the cracked and dry book to her husband, who recognized many other signatures as those of prominent mid-20th century baseball figures.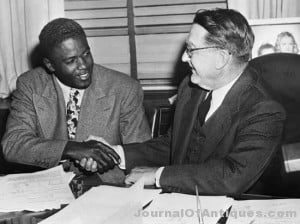 It turns out the Bible had once belonged to Branch Rickey, the baseball executive who broke baseball's color barrier in 1947 by hiring Jackie Robinson for the Brooklyn Dodgers. By 1953, when he received the Bible as a gift, Rickey was president of the Pittsburgh Pirates. It is unknown how it ended up in the Sacramento public library system. Rickey was a religious man who never once played in, directed or attended a game on Sunday. His Bible, now restored, will be displayed at the library during Black History Month.