Ken's Korner: Brits are flabbergasted over theft of sculpture – The Journal of Antiques and Collectibles – March 2006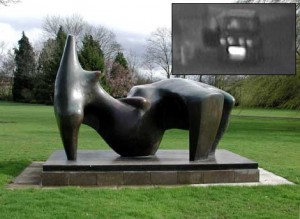 Britain is still buzzing over the incredible theft (in broad daylight, and captured on video surveillance cameras) of a 2-ton sculpture. The bronze work, titled "Reclining Figure," by the late Henry Moore, one of England's most famous artists, is valued at $5 million. But it's far too well known to fence. It could be turned into scrap metal, in which case it might bring $9,000. At this point, police and art experts are still agog over the theft itself, and the brazen manner in which it was carried out.
According to police reports — and surveillance footage — the thieves hoisted the sculpture onto a flatbed truck and drove off down a country lane. The artwork had been sitting on the grounds of a 70-acre compound in the sleepy village of Perry Green, where Moore had lived and worked. The gates there are hardly ever locked, which gave the crooks easy access to their prey. Where and when it will turn up is anyone's guess. "It's not like you can tuck it under your coat," said one local.