Ken's Korner: Man attacks urinal art in Paris, gets arrested – The Journal of Antiques and Collectibles – March 2006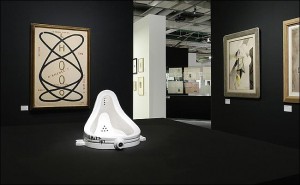 A 77-year-old French performance artist took a small hammer to Marcel Duchamp's "Fountain" — the factory-made porcelain urinal considered to be the cornerstone of Conceptual Art — and was promptly arrested by police in Paris, where the attack occurred. The urinal was slightly chipped; officials had to withdraw it to be restored. "Fountain" was part of a "Dada" exhibition, named for the early 20th century movement that tried to destroy the conventional notion of art.
The assailant, Pierre Pinochelli, considers himself a latter-day neo-Dadist, ironically enough. Police said he called his action a work of art, a tribute to Duchamp and other Dada artists. It wasn't the first time Pinochelli pulled such a prank. In 1993, at a similar show in Nimes, France, he urinated into the very same urinal; he also struck it with a hammer. The original "Fountain," created in 1917, was lost over time. The Pompidou's version is one of eight replicas crafted by Duchamp in 1964.