Ken's Korner: Italy, museums may enter into loan deal – The Journal of Antiques and Collectibles – March 2006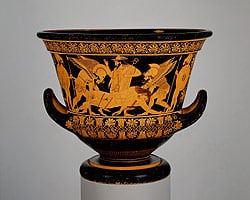 For 30 years, Italy has been at loggerheads with the Metropolitan Museum of Art in New York over a krater (or vase) by the fifth-century artist Euphronios. Italy says the piece was looted from an Etruscan tomb north of Rome and wants it back. The Met is reluctant, arguing there isn't any real, "incontrovertible" evidence to support a looting claim. So far, a potentially ugly court battle has been avoided. But recently, Italy has come up with a face-saving strategy: loans of equal or similar value.
The concept has been embraced by both sides and may be a new negotiating tactic as Italy pursues similar antiquities claims against other American museums. Using loans to leverage the return of objects would be potentially face-saving for all concerned. Claims about illicitly removed antiquities are hard to prove, even in the face of circumstantial evidence. But nobody wants to see such matters resolved in court, where longstanding relationships could easily become jeopardized.