Ken's Korner: Italy seeks return of pilfered artifacts – The Journal of Antiques and Collectibles – February 2006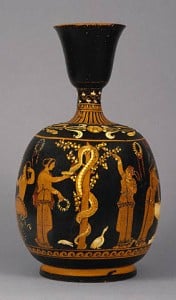 Italy has begun receiving artwork from the Getty Museum in Los Angeles following a scandal that forced the Getty's former curator, Marion True, into exile in France, where she is awaiting trial. True is accused of buying more than 40 objects stolen from excavation sites in Italy or dug up in the countryside. She maintains her innocence. The objects include an ancient urn believed to have been painted by the Greek artist Asteas (shown), and a 4th century B.C. stone sculpture of Aphrodite.
Meanwhile, Italian officials have sent a letter to the Metropolitan Museum in New York, in an effort to start negotiating the return of items including Hellenistic silver taken from Sicily. Historical sites in Italy and Sicily were routinely pilfered between 1950 and 1970, and the country has begun a campaign to get as much of it back as possible from the many museums that now house it. Rome's own local museum has a paltry display of one of the richest archaeological sites in Italian history.