Ken's Korner: Mushroom vase achieves world record price, $100K – The Journal of Antiques and Collectibles – January 2006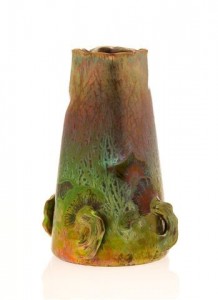 A Clement Massier "Mushroom Vase" (ca. 1897-99) sold for $100,000 — a world record — at a show of "Masterpieces of the French Art Pottery, 1885-1910" held at the new Jason Jacques Gallery in New York City. The vase stands 13.75" tall, with a diameter of 8". It was made in Golfe-Juan, France. "The lyrical quality of Massier's glaze work distinguishes him from all other French pottery of the Art Nouveau period," Jason Jacques said. "His marriage of form and glaze was just amazing."
Massier (1844-1917) was unique among the art potters of the time because of the effort and success he had developing luster glaze techniques, and his ability to synthesize far-flung and regional influences.He began producing brightly colored enameled faience that appealed to the conservative tastes of France's elite who visited the south of France. With the painter Lucien Levy-Dhurmer, massier produced metallic lusterware not seen in France before, beginning around 1887.