Ken's Korner: Navy dolphin finds 130-year-old torpedo
News & Views From the World of Antiques & Collectibles
By Ken Hall
Remarkable as it sounds, the U.S. Navy actually trains dolphins to use their sophisticated natural sonar systems (called "echolocation") to detect underwater mines and other dangerous objects on the ocean floor. On a recent exercise off the coast of San Diego, a dolphin emitted one of its clicking signals, indicating a find, and what a find it was – a museum-worthy, 19th century torpedo. Only about 50 of the brass-coated, 11-foot weapons (known as Howell torpedoes) were made and, of those, only one other has been recovered.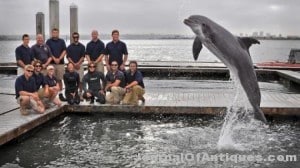 That example is in the Naval Undersea Museum in Keyport, Wash., near Seattle.  The torpedo just found is being kept in a tank of water to prevent erosion on its surface. After that, it will be shipped to the Naval History and Heritage Command and the Washington Navy Yard. The Howell torpedo had a 132-pound flywheel that would be spun prior to launch. Its warhead was filled with 100 lbs. of gun cotton, and the torpedo had a range of 400 yards (with a speed of 25 knots). The Navy may phase out its dolphin program.