Ken's Korner: Piano from Casablanca auctioned for $602,500
News & Views From the World of Antiques & Collectibles
By Ken Hall
A piano from the classic movie Casablanca, starring Humphrey Bogart and Ingrid Bergman, sold for $500,000 at an auction conducted by Sotheby's in New York. With the buyer's commission ($102,500), the final price reached a little more than $600,000 (still well below Sotheby's pre-sale estimate of $800,000-$1.2 million). A possible reason is that the piano was used in a flashback scene and only appeared on-screen for a minute and ten seconds. Also, it only has 58 keys – 30 fewer than a regular piano.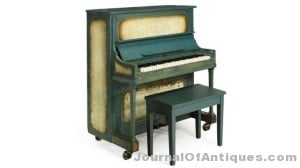 The more famous piano in the film – the one played by Dooley Wilson as he sang As Time Goes By (after being implored by Bergman to "Play it again, Sam," although she never actually spoke those exact words), figured into the movie's plot line because it was the one in which Rick (Bogart) placed the "letters in transit." That piano is on loan to the Warner Brothers Studio Museum in Burbank, Calif. An interesting aside: Dooley Wilson was a drummer, not a pianist. He only mimicked the playing of the piano.