Ken's Korner: Roman statue head is finally recovered
News & Views from the World of Antiques & Collectibles
By Ken Hall
The head of a priceless and ancient Roman statue that had been missing for decades has finally been recovered. The terra cotta funerary piece, possibly depicting Agrippina the Younger, a Roman empress and mother of Nero, the brutal Roman leader. It had been stolen 30 years ago from Pompeii, the Roman town that was buried by a volcanic eruption in 79 A.D. Pompeii is today one of Italy's most famous tourist attractions. Authorities stumbled on the antiquity quite by accident, and made two arrests in the process.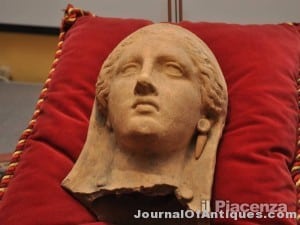 The head had been kept hidden for years by a 62-year-old dentist in Parma, Italy, who tried to sell it but couldn't because its notoriety preceded it – it was simply to famous to sell. But when he tried to make a sale to a 36-year-old antiques dealer from Piacenza, in northern Italy, the police were accidentally alerted. Both men have been charged with receipt and possession of archaeological goods. Thieves and amateur tomb raiders ("tombaroli") make off with around $6 billion a year in stolen artifacts, the FBI estimates.