Ken's Korner: Whale vomit discovery could be worth $150K
News and Views from the World of Antiquing and Collecting
By Ken Hall
Ever heard of ambergris? It's the technical term for whale vomit, released into the sea by sperm whales and, over time, hardening into a rock-like substance with a distinct aroma. Not long ago, Ken Wilman, 50 of Lancashire, England was walking his dog, Madge, on the beach and found a big hunk of the stuff. At first he cast it aside, because it "smelled horrible." Then he did some research online and rushed back to reclaim the odious discovery. The reason? Whale vomit is often used in perfume because of its compelling scent.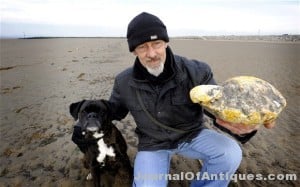 Ambergris is nicknamed 'floating gold' and with good reason. Wilman's rock is worth an estimated $150,000. "It was like walking on the beach and finding a bagful of cash," he said. In August 2012, an eight-year-old British boy, also strolling on the beach, found a hunk of the stuff worth $60,000.  Ambergris is at first a soft and foul-smelling matter that floats on the ocean floor and gradually turns into a smooth lump of compact rock that feels waxy and has a sweet smell. It's so rare that most perfume makers use a synthetic version.