The Civil War Collector
By John Sexton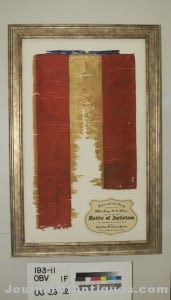 Q: This is the flag remnant picked up by my great great-grandfather on the battlefield of Antietam. The size of the flag is: leading edge, 29.5 inches; fly, 17 inches. The description given by the preservation people is as follows: "The object appears to be a fragment from the fly of a silk US National pattern flag. The fragment consists of what appears to be the top 3 stripes, 2 red and 1 white, and approx. a 1-inch portion of the next adjacent white stripe.  There is also a narrow portion, approx. 1inch of the dark blue canton fabric remaining attached to all 3 stripes on one side.
I also have information about the 20th NY Volunteer Infantry group of which my great-great grandfather was a member. My objective is to have the flag appraised for insurance and gifting purposes.  –J. Bailey
JS:  Too bad not more of this historic flag remains. The State of New York is unaware of any other Civil War national colors for the 20th New York; the matching regimental colors are owned by the State and are six feet square with gold fringe, as this flag was originally. These large silk regulation American battle flags were treasured emblems of the war. They are very fragile, and few remain in fine, complete condition.
The tag which accompanied this flag, originally framed in the 19th century, tells the story of how it was recovered on the Antietam Battlefield and preserved by your ancestor who was in the unit. Any Civil War historian knows that Antietam had the reputation of being the bloodiest battle of the war, and the 20th had more than 100 casualties on that September day in 1862.
The way the cuts on this flag were made, it appears "souvenired," and possibly other pieces remain with similar tags. Fragments of flags have always been popular souvenirs, but most are postage-stamp size, and even those pieces with good tags bring hundreds of dollars, sometimes a couple thousand dollars. The largest price I have ever seen a fragment sold for was a piece of a Confederate battle flag, smaller than this but retaining the regimental number, and it was sold for $15,000. An entire regulation Union battle flag with no history will sell for at least $20,000-$30,000 in fine condition, and one with history could easily bring $100,000 plus. If you decided to donate this to an institution, you could probably receive an appraisal between $10,000 and $15,000 in my opinion.


Q: Hello, John I found this buckle in North Carolina; was wondering if it has any value. The length is 70 millimeters, and the height is 47 millimeters. Any help would be appreciated.
JS: Your buckle appears to be a standard Civil War enlisted pattern CSA rectangular belt plate. There are several variations of it, and these are highly counterfeited. It is difficult to tell from the photographs whether this buckle is original or not; however, I see nothing in the photographs or in your measurements (47mm x 70mm is typical size) that makes it a reproduction. A letter of authenticity from a known authority such as Steve Mullinax, author of the definitive text on Confederate accoutrement plates, would add value and make the buckle more marketable.
This pattern buckle was introduced late in the Civil War and is most typically found associated with troops of Joe Johnston's Army of the Tennessee, especially during the Atlanta campaign. These pattern buckles were first issued to troops in winter camps around Dalton, Ga., and Knoxville, Tenn., early in 1864.
Provenance, condition and surface are the most important factors in determining the value of these buckles. Prices run on dealer sites as high as $3,000-$3,500 for perfect non-excavated examples; damaged excavated plates can be found for about $1,000-$1,500. "Wounded relics," such as a buckle shot through by a minie ball or a shell fragment, can often bring a premium depending on aesthetics.
This buckle is possibly shot, but the damage does not appear consistent with other shot-through belt buckles of this pattern that show much more distortion. Regardless of how this buckle was damaged, it still has the possibility of selling for around $2,000 as a wounded relic, with an opinion of authenticity by a noted authority or expert.
John Sexton is an independent appraiser and expert of Civil War memorabilia. He is an accredited member of various appraiser organizations. He can be contacted at 770-329-4984 or www.CivilWarDealer.com. If you have a Civil War item for him to appraise, email a photo and a description to mikemcl@midnspring.com.net