by John Sexton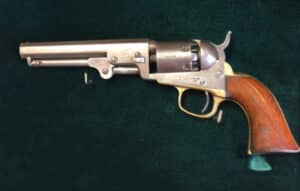 Q: Mr. Sexton, I am writing hoping you can help me identify a pistol that has passed down through my wife's family from her great x? Grandfather. The original owner of the pistol in my wife's family was Alexander Maxwell, who to the best of our knowledge, served the CSA in a Georgia unit during the Civil War. Family lore has it that the revolver in question was used by Alexander during the war.
With the recent passing of my father-in-law, Perry Maxwell, we unfortunately lost any additional family knowledge about the revolver in question.
The weapon bears the markings "Colt's Patent" on the cylinder and "Saml Colt New York City" on the top of the barrel. It has the number 201806 (serial number?) in several places on the weapon. There also is some worn etching around the cylinder. Finally, there is a small "G" stamped on the left side of the weapon just behind the trigger. This is hard to discern in the photos but is very clear on the actual weapon.
Thank you in advance for any help you can provide on this inquiry.
JS: Your pistol is a Colt model 1849 pocket revolver, .31 caliber. This was one of Colt's most popular percussion revolvers ever made. Over 340,000 were manufactured between 1850 and 1873. Based on the serial number, this particular gun was made in mid-1862, the second year of the Civil War.
These guns were made in three different barrel lengths. This example appears to be 5 inches; 4 inches and 6 inches are other variants.
Your gun appears to be in average, good condition, still exhibiting the rolled "stagecoach robbery" cylinder scene. I am not sure what the small G stands for on the trigger guard, but it is not Georgia. Confederates indeed captured a few Colts for sure, but none were surcharged by the Confederate government or by states.
Similar average complete and original examples can be found priced at Civil War shows for about $800.
---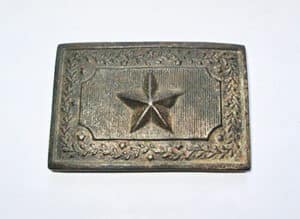 Q: John, back in 2005 my wife and I attended a Civil War seminar in Charleston, SC sponsored by the Univ. of Virginia. One of the driving trips we took afterward was to Richmond and the environs. We drove Lee's retreat trail from Petersburg to Appomattox. In Appomattox, we ran across the Lee Grant Civil War Gift Shop & Museum, which was overflowing with Civil War memorabilia and relics.
We purchased a few items and looking back, we should have bought a lot more! Time passes, and we are getting our estate in order and would like to get a valuation on one of these items. The only thing we purchased that I feel is somewhat unique is a Confederate belt and buckle set. The buckle is a Texas star design and has a naturally heavy patina, but it is sound and not damaged. The belt is 36 inches long and is not a military leather belt but obviously a private-purchase item. The buckle fittings fit the belt holes so they went together. These were not dug items.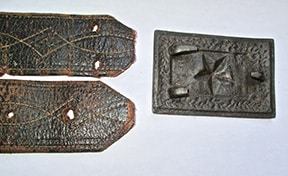 The really poorly handwritten little tag that was attached to the items reads: "Texas belt buckle with the complete leather belt. Came from the Lee Retreat Museum of Joseph Willkson, Farmville, VA. Very rare to find this complete Civil War artifact."
Farmville and the contested High Bridge were along the Lee Retreat Trail so the location makes sense.
JS: I'm sorry to inform you that the buckle is a reproduction. It is a copy of a stamped brass militia plate of the Antebellum Era. Many vendors either don't know how to discern the difference between a true buckle and a copy, or are unscrupulous who pass this kind of material on as original Civil War. The same reproduction buckles can be bought for $15-$20.
---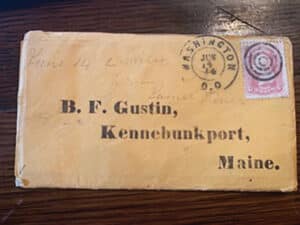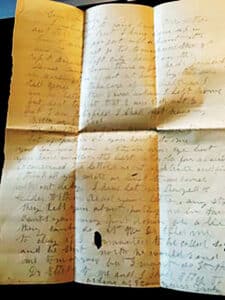 Q: I have a collection of approximately 25 letters from a Civil War soldier named Benjamin F. Gustin of Kennebunkport, ME. I have the envelopes, letters written by him and others, and his discharge papers. Everything has age wear and spots, and some envelopes have the address cut out of them. I do not know the origin or how they were acquired. Could you please give me some information on the value of these items?
JS: Benjamin Gustin was a 44-year-old private in the 32nd Maine, a unit formed April 1864 and mustered out in December. Even though the unit was short-lived, they were sent to the front in Virginia in the 9th Army Corps, suffering over 200 casualties. Official records recorded: "The regiment charged most gallantly on July 30, when the Confederate works in their immediate front were blown up by Burnside's mine [a tunnel filled with explosives], and was one of the first to enter the works. It came out of this sanguinary fight with but 27 men under Adjt. Hayes, the only fficer left."
Soldiers' letters are the most common form of Civil War memorabilia. Content determines value. Most common letters are not interesting to us today, reading about being hungry and cold, and "I heard a good sermon" do not translate to much money. Content is the key. If you start reading in chronological order, and they read like a story, you have to know the ending. Yours will bring more than a minimal value of $500 for 25 letters. There were several hundred letters from mostly Maine soldiers sold at Poulin Auctions in Fairfield, ME on December 13, 2020. You will find a range of prices realized, running from about $20 per letter to $100 per letter or more.
---
John Sexton is an independent appraiser and expert of Civil War memorabilia. He is an accredited member of various appraiser organizations. He can be contacted at 770-329-4984. If you have a Civil War item for him to appraise, email a photo and a description to mclwriter@gmail.com.