by Douglas R. Kelly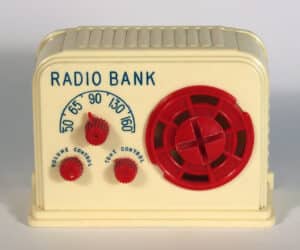 Strange, but I don't remember ever owning a piggy bank. What I did have growing up was a plastic bassett hound bank, which I've since learned was made by Union Products and was around 15 inches in length. You put the coins in a slot on the dog's back, and once that puppy was even half-full, you'd think twice about trying to pick it up or even moving it.
Smaller banks make a lot more sense hernia-wise. Over the last few years, I have, quite unintentionally, put together a modest collection of coin banks – banks that are miniature replicas of everyday objects. Not unlike, yes, toys.
It began in Seattle about four years ago when I found a "radio bank" at Gasoline Alley, a vintage toy shop that I try to hit when I'm out there on business. It jumped out at me because I love old-time radio and because the thing has vaguely Art Deco lines, which always scores points with me. It's a little less than 4 inches wide, and the coin slot is on the back. Twisting the large dial on the front pops it out, allowing easy removal of your cash. Mine was made by Reliable of Canada, which also made a number of truly cool plastic toys. I've also seen a version made by American toy giant Ideal.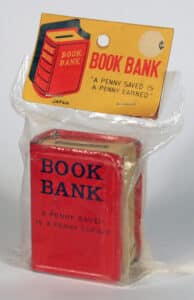 The next one was a no-brainer for me for two reasons when I spotted it in an antique mall during the pandemic. One, it's in perfect condition in the original, unopened bag, which pushes my "toy section of our local five and ten when I was a kid" button big-time. Two, it was made in Japan, of tinplate, and it's impossible to have too many Japanese tin toys when you're me. It's just two and a half inches tall but it's full of charm … the slogan on the front, "A penny saved is a penny earned," has always puzzled me a little (I think Ben Franklin said it originally), but at least it encourages saving.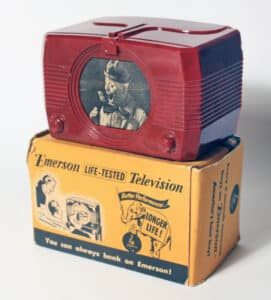 The Emerson television bank appeared on the table of my friend Ben Kriner at last year's Allentown toy show, which didn't surprise me. Ben's a collector of plastic toys, and he often comes up with the offbeat and the unexpected, and always in great original condition. Like the radio bank, this one sports Art Deco-ish lines and is a model of Emerson's model 648 Ultrawave television, which was introduced around 1950. It was used as a promotional giveaway to stimulate sales of the Ultrawave. The coin slot is on the top, and the front has an on-off-volume knob and a knob for changing channels. The box is great fun, with a scene of a family gathered around the TV, along with an arrow pointing to the picture of the clown. The text with the arrow says, "Insert your favorite picture here." Seems like a picture of Ed Sullivan or Sid Caesar would have been a better choice to help sell televisions.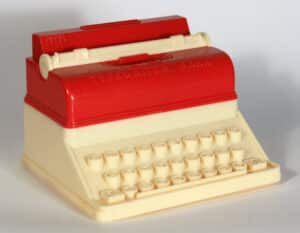 Old typewriters tend to be on my radar screen because one of my daughters loves the things, but this is the first I've seen that's even smaller than a portable. It's four inches wide and the slot is on top, and it was made in the U.S. by Ardee. The front top of the typewriter has the words, "My own typewriter bank," so these may have been intended as a promotional giveaway for banks (the brick-and-mortar type).
In terms of cost, none of these little gems will … uh, break the bank. With the exception of the radio bank, for which I paid $60 (probably twice what it's worth but I didn't care because it's a radio), all of these cost me from $10 (book bank) to around $30 (the television).
Small change.
---
Douglas R. Kelly is the editor of Marine Technology magazine. His byline has appeared in Antiques Roadshow Insider; Back Issue; Diecast Collector; RetroFan; and Buildings magazines.