On the Road To… Connecticut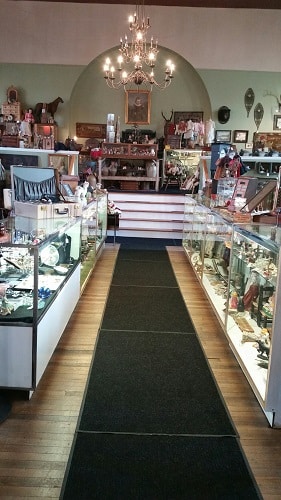 What better way to experience the past than antiquing in Connecticut.
Whether you're on the Connecticut Antiques Trail or off the beaten path, you'll find shows, shops, flea markets and auction houses along the way worth the stop.
UPCOMING ANTIQUE SHOWS

70th "Papermania" Plus Antique Paper Show
www.papermaniaplus.com
August 20-21 – Sat. 10am-5pm, Sun. 10am-4pm
XL Center, 1 Civic Center Plaza Hartford, CT
45th Annual Madison Historical Society Antiques Fair
www.madisoncthistorical.org
August 27 – 9am-4pm
Town Green, Route 1, Madison, CT
Madison Chamber of Commerce Outdoor Antique Show
chamber@madisonct.com – 203-245-7394
September 17 – 9am-4pm
Madison Town Green, Madison, CT
Fall Events at the Barn
www.shopsatmarlboroughbarn.com – 860-295-1114
September 17, October 8
45 Main Street, Marlborough, CT
Hunt & Gather Events Presents Dealer's Fair Antique Show
www.huntandgatherct.com – 203-263-3775
September 20 – 9am-1pm
Goshen Fairgrounds. 116 Old Middle Street, Goshen, CT
Wilton Fall Antiques Market
www.barnstar.com – 845-876-0616
October 29 – 9-10 am: Mimosa and Madeleine Welcome! $25 per person; 10am -5pm
Wilton Historical Society, 224 Danbury Rd., Wilton, CT
Jenny Lind Annual Antique & Collectible Doll, Bear & Toy Show
www.DollClubs.com – 203-266-4769
October 30
The Crowne Plaza, 1284 Strongtown Road, Southbury, CT
Train & Toy Show
www.classicshowsllc.com – 203-926-1327
November 6 – 9am-2pm
Zandri's Stillwood Inn, 1074 South Colony Road, Wallingford, CT
16th Annual Wethersfield Antiques Show
www.wethersfieldhistory.org
November 18 & 19 – Fri. 6:30pm-9pm, Sat. 10am-4pm
Pitkin Community Center, 30 Greenfield St, Wethersfield, CT

AUCTION HOUSES
Canton Barn
www.cantonbarn.com
75 Old Canton Rd., Canton, CT
Fairfield Auction
www.fairfieldauction.com
707 Main St, Monroe, CT
Ingraham Auction
www.ingrahamauctions.net
44 Lake St, Coventry, CT
Nadeau's Auction Gallery
www.nadeausauction.com
25 Meadow Rd, Windsor, CT
Nest Egg Auctions
www.nesteggauctions.com
758 4 Rod Rd, Berlin, CT
Norman C. Heckler
www.hecklerauction.com
79 Bradford Corner Road, Woodstock Valley, CT
FLEA MARKETS
College Mart Flea Market
Every Sunday – 9am-4pm
Slater Mill Mall, Jewett City, CT
Elephant's Trunk Flea Market
Every Sun., April-November – 7am
490 Federal Road, New Milford, CT
Fireside Colchester Flea Market
Every Sat., April-October – 9am-3pm
489 Old Hartford Rd., Colechester, CT
Flea Market at the Crossing
Every Sat. & Sun. – 9am-4pm
105 E. Main Street, Plainville, CT
Lee's Flea Market
Every Sat. & Sun. – 9am-4pm
548 Main Street, Danielson, CT
Mansfield Marketplace
Every Sun. – 8am-3pm
Mansfield Drive-in Theater, 228 Stafford Road, Mansfield, CT
New Hartford Lions Club Flea Market
Saturday, September 24 – 8am
580 West Hill Road, New Hartford, CT
Redwood Country Flea Market
Every Fri., Sat., & Sun. – 6am-3pm
170 S. Turnpike Road, Wallingford, CT
Woodbury Antiques & Flea Market
Sat. & Sun. – 7:30am-2:30pm
44 Sherman Hill Rd, Woodbury, CT
SHOPS AROUND TOWN
Nathan Hale Antique Center
nathanhaleantiquecenter@yahoo.com – 860-498-7400
1141 Main Street (Rt. 31) Coventry, CT
A quality multi-dealer antique shop located in the historical section of Coventry, CT. The store, ca. 1820, is a de-sanctioned Old Methodist Church containing 3,500 sq. ft. of antiques. The Antique Center showcases 18 quality dealers (and growing!), and features early Americana, primitives, folk art, textiles, stoneware, redware, early bottles,
paintings, estate jewelry, sterling, advertising, dolls, toys, bears, doll miniatures, and so much more.
Special Joys Doll & Toy Shop
specjoys@aol.com – 860-742-6359
41 North River Road, Coventry, CT
Featuring a large selection of antique and collectible dolls, toys, bears, Steiff animals, miniatures, and doll clothes. B&B on premises.
Stratford Antique Center
www.stratfordantiquecenter.com – 203-378-7754
400 Honeyspot Road, Stratford, CT
A multi-dealer shop conveniently located off I-95, in Stratford, CT. The big blue building has 16,500 sq. ft. of antiques & collectibles from 200 dealers. Come visit Fairfield County's oldest multi-dealer group antique shop!
Silk City Antiques & Décor
www.silkcityantiques.com – 860-533-1263
845 Main Street, Manchester, CT
A 3,000 sq. ft. shop full of collectables, antiques, furniture, sterling, glass, pottery, jewelry, southwest Indian jewelry, chairs, Victorian furnishings, country items and gifts, and more.
The Shops at Marlborough Barn
www.shopsatmarlboroughbarn.com – 860-295-1114
45 North Main Street, Marlborough, CT
The Barn Antiques and The Barn Annex are loaded with an excellent selection of unusual and hard to find antiques, as well as gift-quality household goods and consignment furniture.
CONNECTICUT SHOP FINDER DIRECTORY
Antiques on the Farmington
www.antiquesonfarmington.com – 860-693-0615
10 Depot Street, (Collinsville), Canton, CT
Memory Lanes Countryside Antique Center
www.memorylaneantiques.com – 860-742-0346
2224 Boston Turnpike (Rt. 44), Coventry, CT
Rambling River Antiques Decorator Accessories & Collectibles
www.facebook.com/ramblingriverantiques – 860-664-9270
172 Boston Road, Westbrook, CT
Treasure Chest Fine Antiques & Collectibles
www.treasurechestzzz.com – 860-977-6878
98 Whiting Street, Plainville, CT
On the Road To… Connecticut