Comic Character Collectibles
by J.C. Vaughn
Among the more notable prices realized for vintage comic books over the past few months were two transactions at ComicLink. First, the company brokered a CGC-certified 9.2 copy of Amazing Fantasy #15, the first appearance of Spider-Man, for a record price of $460,000. They followed that up by brokering the sale of a CGC-certified 5.5 copy of Superman #1, the first appearance of Superman in his own title, for $507,500.
The record-setting 9.2 Amazing Fantasy #15 exceeds the $454,100 paid for a CGC 9.4 example in February 2016, while the sale of the 5.5 Superman #1 established the highest price that Superman #1 has ever sold for in any condition, according to Josh Nathanson, ComicLink's President and founder. Nathanson sees the transactions as both isolated sales and more indicative of the market as a whole.
If that sounds like a contradiction, Nathanson doesn't think it will be that way for long.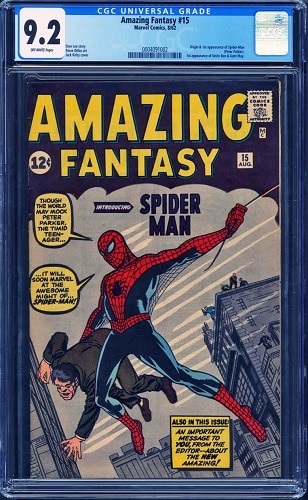 "Initially, they are isolated record sales, but as the market gets used to the prices, they will become indicative of the market as a whole. That said, the sales could not have occurred if we weren't in a vibrant and thriving market," he said.
There have been many records set for comic book prices over the last decade, and ComicLink has had a share of them. These two issues are among the frequently-noted successes.
Superman #1, released in 1939, was the first DC comic book devoted to a single character. It capitalized on the phenomenal success the title character had experienced since his debut in Action Comics #1 in 1938.
Published 23 years later in 1962, but no less appealing to serious collectors, Amazing Fantasy #15, was the last issue of an anthology title. Despite being more than two decades more recent than Superman #1, high-grade copies of the first appearance of Spider-Man are considered rare.
Of the 2,627 copies certified by CGC, only 11 examples of Amazing Fantasy #15 have been certified CGC 9.2 or higher.
"According to the latest CGC census, there are four 9.6 examples, four 9.4 examples and only three 9.2 examples. That means only 0.4 percent of all graded copies have graded as high," Nathanson said.
"While Amazing Fantasy #15 had a healthy print run, its 1962 publication date puts it very early in the period when comic books were just beginning to be saved by collectors for posterity. This copy of Amazing Fantasy #15 lacks the Marvel chipping (scoop-shaped color loss among the edges of the comic) that is very common on copies of this issue along with other Marvel titles of the time," he said.
While any market will have its ups and downs, Nathanson predicted that demand for these issues will always continue because the high profile characters featured in them.
"These issues are generally good investments, so what we usually see when we sell them is a seller wanting to 'cash out' at the highest possible price for this moment, and the buyer having to pay up in order to acquire them. The buyer generally has a longer time horizon in mind for the investment, while the seller usually has the funds he will receive earmarked for something else," he said.
Despite their obvious differences, both of these comic books are considered key issues. Nathanson said that not only key issues are attracting attention.
"Key issues are always in the highest demand. The first book that a collector always wants to acquire is the first appearance of the character that he has the most fond memories of from childhood. But let's say that's Spider-Man; that collector may decide to collect an entire run of Spider-Man issues after acquiring the first appearance issue. Then they figure out what grades to collect, based on what they can afford and how large a collection they want to put together. Collections sprawl out from there," he said.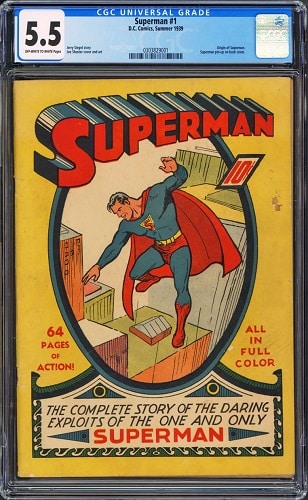 When it comes to a key issue, it's pretty easy to list the factors that might drive the sale, including first issue, first appearance of a major character, pivotal storylines, and so on. Highlighting what factors drive the sales of non-key issues requires a bit more digging.
"Well, a non-key issue is an issue that does not introduce anything new or significant, but if you expand the definition of a key issue to one that is part of a key storyline or one that contains particularly desirable characters within it, then a non-key issue would be one that does not contain those aspects either," Nathanson said.
If recent history is a guide, non-key issues can become key when a previously minor character is brought back as a major story component or – and this has happened frequently in the past few years – has appeared in a feature film or on a TV series. In fact, speculation often runs rampant in a section of the marketplace about which characters might appear. Playing in that particular arena can be dicey.
Coming off the company's most recent auction, Nathanson said he tries to steer clear of predicting the immediate swings of the market and concentrates on its overall health.
"I try not to prognosticate too much, but in the most recent ComicLink auction, many record-breaking prices were realized across the board, from all periods from the 1930s through key issues from the modern era. Original comic book and illustration related artwork was also very strong. This was our first major auction of the year, and often, how the first auction goes is how the year goes. So my guess would be that prices will remain strong throughout this year," he said.
The company, which can be found at ComicLink.com, is the comic book industry's longest-running online consignment site. They host quarterly Featured Auctions and monthly Focused Auctions featuring an array of vintage comic books and original comic art at prices ranging from very accessible to the highest end. Those interested may contact Josh Nathanson at buysell@comiclink.com or call (617) 517-0062.
Superman, Spider-Man Set Records (Again)