by Maxine Carter-Lome
Both the best and rare examples of clothing, accessories, and textiles that have survived the proverbial "wear and tear" of history populate museum and private collections around the world. On a hanger or mannequin, these historic garments and fabrics tell stories of period fashions, craftsmanship, culture, and social status. With provenance, they take on a life of their own.
Here are the stories of eight remarkable 18th-20th century women, some known and others unknown, and a garment left behind to help tell their story:
---
Collection: New York Historical Society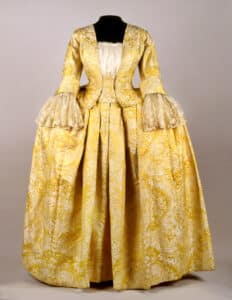 Wedding Dress, ca. 1712
Owner: Cornelia de Peyster Teller
This wedding dress was worn by Cornelia de Peyster (1690-1756), daughter of Isaac and Maria (Van Ball) de Peyster, on October 12, 1712, when she married Oliver Stephen Teller (1685-1729), son of Andres and Sophia (Van Cortlandt) Teller. They went on to have nine children together.
Yellow and cream silk brocade dress a l'anglaise of English "lace" period textile design, possibly Anna Maria Garthwaite; fitted bodice cut separately from the skirt with pleat from the back of the shoulder continuing down the front (originally it would have been a robe and been known as "robe a l'anglaise;" originally worn pinned to sides of matching stomacher (no longer extant, but possibly made into front waist fitting); yellow brocade piece turned to cross grain and made into front waist fitting attached below a silk chiffon modesty piece creating a low square neckline; three-quarter length fitted sleeves with large turned-back cuff and needlepoint lace ruffles with a floral pattern at the edge; a full round skirt and matching petticoat with pleats at sides; needlepoint net and lace "engageantes" (false sleeves) not original to dress.
According to the New York Historical Society, "Multiple layers of historical discourse involving both production and consumption can be unraveled from this single garment: the international trade networks that brought exotic fabrics like the garment's sumptuous silk brocade to colonial New York; silk production and fabric weaving in 18th-century Europe and Asia; consumerism among colonial New Yorkers, particularly the trend towards cosmopolitanism and exoticism; and the impact of the colonial revival on early 20th-century fancy dress, specifically the re-appropriation of evocative heirlooms such as the de Peyster dress.
The dress has undergone alterations, most for Alice Crary Sutcliffe, who wore it for her wedding on April 30, 1908. Sutcliffe donated the dress to the Society along with her shoes, diamond wedding ring, and the couple's silver wedding tankard.
---
Collection: Historic New England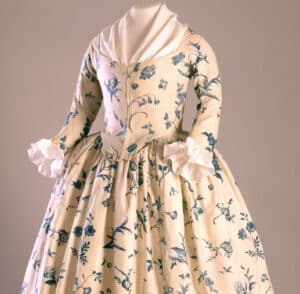 Woman's Gown, ca. 1770-1790
Owner: Deborah Sampson
Deborah Sampson Gannett (1760-1827) led a life that, with one extraordinary exception, was typical of impoverished women of her time. Born to farmers in Plympton, MA, she worked as an indentured servant from the age of ten until she enlisted in the Continental Army as a man, first giving her name as Timothy Thayer then as Robert Shurtleff, in 1782. Wounded in Tarrytown, New York, Deborah avoided discovery for eighteen months, when she contracted yellow fever and received an honorable discharge in 1783. By 1792 she had successfully been granted her back pay for service in the Massachusetts Fourth Regiment. Her tale appeared in print as "The Female Review: Or, Memoirs of an American Young Lady," in 1797. By 1802 she was on tour to talk about her experiences, completing her performance with an elaborate military drill in uniform. She received support for her pension application from Paul Revere, a personal friend. This dress, a style known as a "round gown" for the closed skirt in front, is an updated 1780s version of an earlier gown. The dress remained in the family until 1998. Family history identifies it as Deborah's wedding dress.
This gown was originally made as an open robe—meant to be worn with a petticoat—most likely in the 1770s. It was re-made into a round gown—the skirt was closed across the front—sometime in the mid to late 1780s. The gown is constructed from plain-weave linen plate-printed in indigo with a repeating pattern of floral sprays and seashells. It was altered again, probably in the late 19th century, to add a row of metal hook-and-eye closures down the center front of the bodice. The back of the gown is constructed a l'anglaise, but without a forreau back, which is another indicator of a late 1780s to 1790 alteration. Sleeves are three-quarter in length, altered to remove the self-fabric ruffles, which appear to have been ironed out and pieced into the skirt and lengthened. The bodice is lined with two types of coarser, unbleached linen. Other 19th-century alterations included shortening the hemline and adding lace ruffles to the sleeve cuffs (which were later removed during conservation). The gown has a reproduction plain muslin kerchief and sleeve ruffles.
---
Collection: National Museum of American History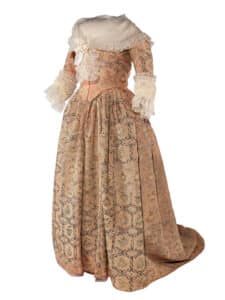 Woman's Gown, ca. 1780

Owner: Martha Washington
Martha Washington served as the nation's first First Lady but was so much more. She joined her husband at winter encampments during the Revolutionary War, helped manage and run her husbands' estates, raised her children, grandchildren, nieces, and nephews, and for almost 40 years was George Washington's "worthy partner." She was fashionable but conservative in her dress, her eye for fine fabrics and tailoring was well-known. As described by Abigail Adams, wife of the second President John Adams, Martha Washington remained: "plain in her dress, but that plainness is the best of the article. … Her manners are modest and unassuming, dignified and feminine."
This gown's basic style is typical of the early 1780s. The painted pattern on the silk taffeta is a repeat of four floral bouquets and 58 creatures (butterflies, ants, beetles, snails, bees, grasshoppers, wasps, ladybugs, spiders, and grubs) placed within the spaces between the ribbon-trellis pattern. Each crossover is accented with a painted green "jewel." The fabric displays characteristics common to 18th century hand-painted Chinese textiles: fluid brush strokes, a white lead base coat of paint, green malachite pigment for the "jewels," and a 30-inch selvage-to-selvage width. The collar and cuffs are reproductions.
---
Collection: Old Sturbridge Village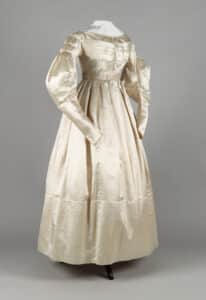 Woman's Dress, ca. 1813
Owner: Hope Potter Merinio
Hope Potter Merinio wore this dress on her wedding day, April 24, 1831, in Bristol, Rhode Island. Creating new dresses was expensive so Hope reused the dress after her wedding and refitted it in creative ways. To create more room in the back, someone sewed part of a sleeve into the bodice allowing for the addition of hooks, resulting in an unusual look.
Merinio's white silk satin gown or dress with long sleeves and extra short sleeves. Both sleeve designs are pleated at the shoulder and feature two rows of embroidered with a brown silk chainstitch. On the short sleeves, the lower rows have been removed. The bodice is styled with horizontal pleating. Four rows of tucks around the waistband (two similar at the cuff of short sleeves). The back of the bodice has curved seams covered with double rows of tucked fabric. Skirt pleated in front and gauged in back. Hook and eye closure. Bodice has been enlarged at the center back by applique of one of the scalloped cuffs and a small gusset set in under arms. The bodice and lower edge of the skirt are lined.
---
Collection: Peabody Essex Museum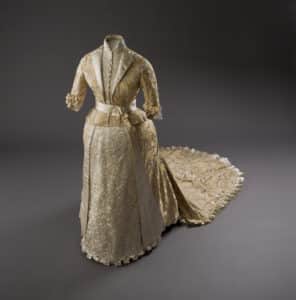 Wedding Dress, ca. 1879
Owner: Jenny Jameson Rice
Jenny Jameson Rice (b. 1858) wore this dress on her wedding day on June 10, 1879, to Richard Jessup Morgan of New York, grandson of industrialist and shipping magnate Charles Morgan (1795-1878). The couple had three children. When her husband died, Jenny married Dr. Henry A. Manderwille, M.D.
Rococo Revival style wedding dress from the Victorian period. Ivory/ gold silk brocade in a floral and feather pattern with ivory silk satin. Embroidered with ivory silk and seed pearls at the collar and extensively on the front of the skirt. Princess cut construction with band collar, elbow-length sleeve, and button fastening at front. Bustle skirt with a triangular embroidered panel at front; bustle and train at back.
---
Collection: National Museum of African American History and Culture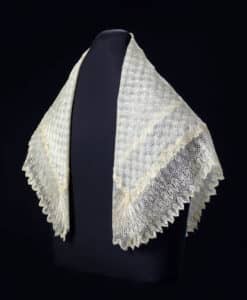 Silk & Lace Shawl, ca. 1897
Owner: Harriet Tubman
Harriet Tubman (1820-1913), called the "Moses" of her people, is known for liberating herself and countless others from the yoke of slavery. As a "conductor" on the Underground Railroad, she led more than 300 slaves to freedom. In addition to aiding runaways, she served as a scout, spy, cook, and nurse for the Union Army during the Civil War. She is one of the most recognized African American women of the 19th century.
One of the most treasured objects at the Smithsonian's new National Museum of African American History and Culture is the white, silk, and lace shawl that Queen Victoria gave Tubman in 1897 when the royal was giving out medals to heroes worldwide as part of her Diamond Jubilee. Even though Tubman did not attend this special event, it is believed that Queen Victoria sent the shawl as a gift along with the commemorative medal dignitaries received for attending. According to two scholars, the medal was pinned to Tubman's black dress and she was buried with it. The shawl survives because Tubman's descendants preserved it long enough to present it to a professional bibliophile, Dr. Charles L. Blockson, who thought it worthy to be preserved as a national treasure for the American people.
---
Collection: Victoria & Albert Museum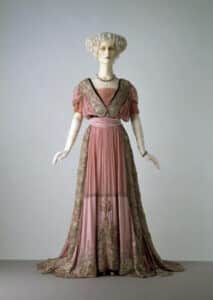 Evening Dress, ca. 1908
Owner: Lady Pearson
Annie Pearson, Viscountess Cowdray, (1860–1932), was an English society hostess, suffragist, and philanthropist. She was nicknamed the "Fairy Godmother of Nursing" due to her financial patronage of the Royal College of Nursing and her work to promote district nursing throughout England and Scotland. She served as the President of the Women's Liberal Federation from 1921 until 1923, and was also the Honorary Treasurer of the Liberal Women's Suffrage Union. She was the only woman to hold the office of High Steward of Colchester, serving from 1927 until she died in 1932.
The dress is dominated by boldly embroidered panels imported from Turkey and made up in London. In style, this dress is transitional between the pronounced curved shapes of the early 1900s and the straighter lines (with high waists) that had become current by about 1909. There is some evidence that an earlier dress may have been adapted to suit the tastes of 1908. The inside of the bodice has a grosgrain waist stay (grosgrain is heavily ribbed silk) with the woven label of Jays Ltd, which bears a taffeta ribbon marked "Lady Pearson," the name of the wearer.
---
Collection: Purdue University, George Palmer Putnam Collection of Amelia Earhart Papers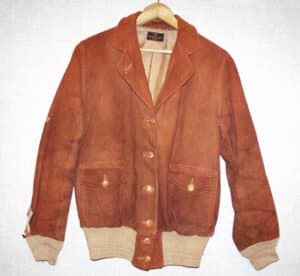 Suede Jacket, ca. 1930
Owner: Amelia Earhart
Amelia Mary Earhart (AE) was born on July 24, 1897, in Atchison, Kansas, and went on to become one of the most famous women of the 20th century. In December 1920, she took her first ride in an airplane and in January 1921, began taking flying lessons. With help from her family, she took a job in a telephone company and bought her first airplane. In 1922, she set her first aviation record with an unofficial women's altitude record of 14,000. The following March, Amelia appeared as one of the attractions at a local air rodeo, and in May 1923 she acquired her airline pilot's license. She was the first woman, and seventeenth pilot, to receive a National Aeronautic Association pilot's license. In May 1932, Amelia became the first woman (and second person) to fly solo across the Atlantic. With this flight, Amelia also became the first person to cross the Atlantic twice by air nonstop, setting a record for the fastest Atlantic crossing and the longest distance flown by a woman. She and her co-pilot and plane went down during an attempt to circumnavigate the globe at the equator in 1937. The plane and their bodies were never recovered.
Suede jacket worn on 1932 solo Atlantic flight, Abercrombie & Fitch, medium brown leather, six buttons with two side pockets, ca. 1930s.
---
Collection: Electra Havemeyer Webb, founder, Shelburne Museum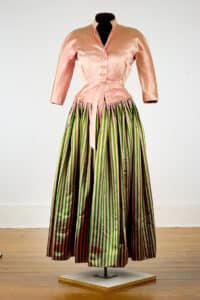 Two-Piece Satin Evening Dress, ca. 1950
Owner: Shelburne Museum
Electra Havemeyer Webb, the founder of Shelburne Museum in Vermont, was one of the very few women collectors of her time.
A genuine pioneer, she began collecting "folk art" in 1907 before almost anyone knew that Americans produced it and was piling up "Americana" before the term was coined. She founded the museum in 1947 to make her vast personal collections accessible to the public and create "an educational project, varied and alive" for all of Vermont and beyond.
The Shelburne Museum was originally named "The Electra Havemeyer Webb Museum of Fascination." Mrs. Webb's original collections of fine art, folk art, decorative art, waterfowl decoys, textiles, wheeled vehicles, and more formed the basis for a collection that now numbers more than 100,000 objects. Electra's clothing designer of choice was Hattie Carnegie of New York City.
This two-piece satin evening dress, ca. 1950s, was made with silk and metal. The Shelburne Museum acquired it from the Estate of J. Watson Webb, Jr. It features a fitted pink bodice, three-quarter length straight sleeves, stand-up collar, and is tied at the waist with a peplum blending into the skirt. The skirt is pleated so the top shows only pink and then the green stripes appear to flow out from underneath with a ballerina shape.
---
Collection: John F. Kennedy Presidential Library and Museum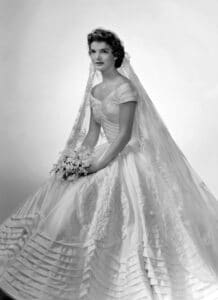 Woman's Wedding Dress, ca. 1953
Owner: Jackie Kennedy
Jacqueline Lee Kennedy Onassis was an American socialite, writer, photographer, and book editor who served as the first lady of the United States from 1961 to 1963 as the wife of President John F. Kennedy. Kennedy was known for her taste and timeless style that set fashion trends around the world. Jackie Bouvier's wedding to Jack Kennedy in 1953, held in front of 800 invited guests, was what we would call today a media circus; her much-anticipated wedding dress, designed by Ann Lowe, was widely photographed. Ann Lowe was a sought-after dressmaker to elite East Coast families—like the Rockefellers, Du Ponts, and Roosevelts—for bespoke bridal and debutante gowns.
The pristine pleating on the gown's bodice, intricate scallop pin tucks, and complex rosette embellishments with dainty wax orange blossoms nestled in the center—all meticulously done by hand—are trademarks of Lowe. As impressive as it is today, the wedding gown almost didn't materialize. Two weeks before the ceremony, and after two months of hard work, Lowe's atelier flooded. Jackie Kennedy's wedding dress was destroyed, along with the bridesmaids' dresses. The designer, at her own expense (and ultimately for a financial loss on the project), purchased new fabrics and assembled an emergency seamstress team. Unbeknownst to her high-profile clients, Lowe recreated the collection in just 10 days. Today, the wedding dress, too delicate to exhibit, is preserved in the John F. Kennedy Presidential Library and Museum.