Guess What Article for August 2003 The Journal of Antiques & Collectibles
By Bob Cahn, "The Primitive Man"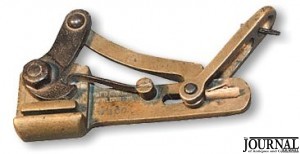 If it looks precision made (of bronze), is subtle in accomplishment, powerful within the scope of its compact stature, intriguing to look at and features limited spring action – let's not over-state the obvious; we're referring to this month's Guess What!
It fits in the palm of your hand which makes for a loose size reference – depending on the enormity or daintiness of one's "mitt". There's also tension involved when two grooves clamp together – but not nearly as much as you're about to incur if you decide to jury-test the following plausibilities:
Guy wire bent tree support clamp
Water skiing boat tow-pull
Wire fence repair stretcher
Helicopter/ocean drop rescue lifter
Alaskan dog team harness hitch
Piano maker/tuner frame wire tightener
Electricians line snaking grip
Hunters snare trap runaway prevention insurance
Cargo net container hook-up
Commercial lobsterman's trap lifter.
There's light at the end of the tunnel – because we've factored the correct answer into the preceding mix. Confirmation next month. Till then!*
*available for acquisition
Answer to July 2003 'Guess What?'
A sawbones was a doctor, pill roller a pharmacist, but what did you call a paper folder? Our answer: "a powder pusher". Many early apothecary prescriptions called for hand-compounding mixtures with mortar and pestle or blending technique when compressed pills were not available. These dosages were dispensed in powder form (for liquid dissolving) in folded paper packets. This is a hand paper-folding machine press. The slightly raised brass rules scored the paper, forming guidelines for folding. The medicine was poured in, the packets boxed for the patient. This is a rare example!*
*available for acquisition