Guess What Article for February 2006
By Bob Cahn, "The Primitive Man"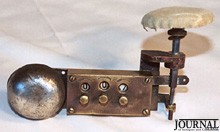 Count Dracula, Count Basie, the Count of Monte Cristo, count down, down for the count, the long count, a short count, count your blessings, 10 red herrings ahead and counting!
By now you probably figured out the theme of this month's GUESS WHAT. Having to do with the ability to keep count, this mechanical rendition of solid brass allowed one to register and keep track – relieving the mental strain and monotony of retention – with the bell alerting you in the process – announcing every one hundred accomplishments.
This is an embryonic 20th century version of the "Palm Pilot" – the energy needed to operate it. Your challenge- should you accept it – is to determine under what circumstances was it used? (Dimensions for size reference: 7″ long x 4 1/4″ high [overall] x 1″ thick; padded pommel – 2 1/2″ diameter; bell – 2 1/4″ diameter).
Take a guess from among the following, with the answer included:
Assembly line piece work production counter
Barnyard animal inoculation register
Salmon fishery spawning spot checker
Corn shucking contest scoring machine
Fire department night club capacity counter
Steer branding herd round-up register
Hot dog eating contest tabulator
Beehive colony counter
Supermarket 1,000,000th customer contest checker
School playground recess pupil tracker.
Time's up – answer next month. Till then!*
* Available for acquisition
Answer to January's Guess What?
Last month we tried to confound you with a honeycomb harvesting centrifuge separator. The gear ratio of the overhead crank mechanism enabled the operator to generate incredible speed, transferring enormous spinning energy to the wire basket insert – separating the honey from the wax.
The viscosity became liquid enough to drain from the vent valve at the bottom. It operated from a metal stand or cinder blocks.*
*Many thanks to Laura and Keith Evans – K&L Antiques, Tustin, CA for this unusual item.