Guess What Article for June 2004 The Journal of Antiques & Collectibles
By Bob Cahn, "The Primitive Man"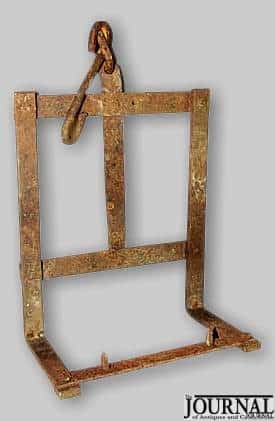 Let's start off this month's GUESS WHAT with a word that has many connotations and could offer the most generous clues this column has ever provided. We are referring to a word that could mean to prolong or draw out, extract the truth or ferret out facts, pinpoint something boring or monotonous, describe street or strip auto racing, dressing in an unconventional, anti-societal manner, or paraphrasing lethargic or listless behavior.
Will this get you closer to the answer – for sure, if you carefully review the list of red herrings we have provided – including the correct answer – and apply them to the dissertation above.
First a short description, then on with the fun. It's rugged, heavy, blacksmith made, not pretty – but extremely functional, no frills – and is seasonal. Measures 15-1/2 inches wide by 19 inches high by 9 inches deep. Of particular importance are the two small 1-1/4 inch high spikes.
Is it an:
Egyptian pyramid slave granite block carrier
Lake harvesting ice block horse drag
Railroad freight yard cargo hauling frame
Primitive (Neanderthal) book-slab-of-the-month club winter- time warehouse delivery vehicle trailer hitch
Dealer car battery wall display rack
Earthquake -proof cinder block spiked stabilizer frame
Alpine guide first-aid rescue back pack
Early foot-ball water boy carrier
Campers' firewood foraging backpack apparatus
Paper boy's Sunday edition delivery harness.
See you next month with the answer.
Answer to May 2004 'Guess What?'
The could-be exercise bike frame from last month turns out to be an early individual bicycle parking stand – with great lines and balance, a sculpture in metal…. from the private collection of Bev and Rob Armbruster, Croton Falls, NY.