Ken's Korner: 1,200 silver bars are rescued from wreck – The Journal of Antiques and Collectibles – September 2012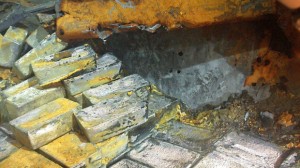 Just over 1,200 silver bars, weighing 1.4 million troy ounces and worth a staggering $225 million, have been rescued from a World War II shipwreck 300 miles off the coast of Ireland. The ship was the SS Gairsoppa, a British cargo vessel that was torpedoed by a German U-Boat in February 1941. All 83 crewmembers and two gunners perished in the sinking, except for one officer who survived the evacuation The Gairsoppa was being used by the British government as part of its War Risk Insurance program prior to its sinking.
The silver belongs to the UK after the British government paid $518,000 to the owners of the cargo. It was recovered by the U.S.-based deep ocean exploration firm Odyssey Marine Exploration. A spokesman said the silver recovered from the Gairsoppa may only account for 43 percent of what was on board. Odyssey is also trying to recover 600,000 ounces of silver from another shipwreck, the SS Mantola, about 100 miles from the Gairsoppa. The Gairsoppa recovery will be featured on a Discovery Channel special.