Ken's Korner: $50 lidded vessel sells for $26,550
News & Views From the World of Antiques & Collectibles
By Ken Hall
Not long ago a couple was browsing a small antiques shop in Fresno, Calif., when they spotted an Asian blue-glazed porcelain vessel, but the $150 price tag was kind of steep so they begged off buying, even when the shop owner offered it for a flat $100. Some time later the pair returned to the shop and saw the same vessel, still unsold, so they asked the shop owner if he could come down some more. Finally, a deal was struck: the piece was theirs for $50. Curious, they brought their find to Michaan's Auctions in Alameda, Calif.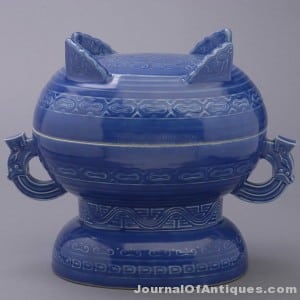 There, Asian Art Specialist Harry Huang gave them the good news: they'd bought a fine archaistic piece from the Qing Dynasty, worth thousands. He duly tucked it into Michaan's Fine Asian Works of Art auction, assigning it a pre-sale estimate of $7,000-$9,000. The blue-glazed molded archaistic ritual vessel and cover ended up fetching $26,550. A similar yellow vessel with cover sold at Michaan's in December 2011 for $14,040, and a comparable piece of the same caliber was sold at Christie's in Hong Kong in 2006 for $14,000.