Ken's Korner: Louis XIV elephant tusk chainsawed off
News & Views From the World of Antiques & Collectibles
By Ken Hall
The tusk from an elephant once belonging to France's Louis XIV – the "Sun King" – got chainsawed off in the middle of the night at Paris's Museum of Natural History, but the would-be thief fell and broke his ankle trying to escape and is now under arrest. The man, in his 20s, nearly got away, having climbed over a wall with the tusk draped over his shoulder. The tusk was not an original but had been added to the skeleton in the 19th century. Still, it was ivory, and ivory commands very high dollars on the illicit black market.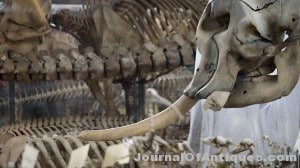 The African elephant was given to Louis XIV by a Portuguese king in 1668. It lived for 13 years in the "royal menagerie" on the grounds of the Palace of Versailles, where it became the star attraction. When the elephant died, its skeleton was delivered to the natural history collection in Paris, one of the biggest in the world (along with London's Natural History Museum). The international trade in elephant ivory has been against the law since 1990, after a sharp decline in elephant populations. But thefts, poaching and sales continue.