Ken's Korner: Man jailed for trying to steal a rhino head
News & Views From the World of Antiques & Collectibles
By Ken Hall
A 29-year-old British man has been sentenced to 18 months in prison for his part in the brazen attempted theft of a rhinoceros head from a museum in England. Patrick Kiely was part of a gang of four that entered the Castle Museum in England during regular business hours, smashed the glass case containing the rhino head that dates back to the Victorian era and attempted to make off with it. However, staff and visitors bravely blocked their path, and the men ended up dropping the head and beating a hasty retreat.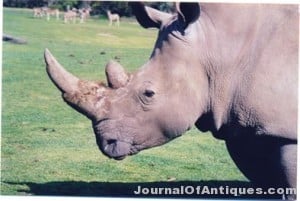 It's no mystery as to why the thieves wanted the head: the high value of rhinoceros horns, which are used in Southeast Asia medicine, currently trade for more than gold, platinum or cocaine. The belief that ground rhino horns can cure cancer and other ailments has fueled a surge in rhino poaching. The street value of rhino horns is a staggering $95,000 per kilogram (2.2 lbs.). The rhino horn in the museum was estimated to be worth between $700,000 and $1.15 million. It was damaged in the attack and was replaced with a replica.