Ken's Korner: TV show Batmobile sells for $4.2 million
News and Views from the World of Antiquing and Collecting
By Ken Hall
The world-famous Batmobile from the 1960s TV show starring Adam West and Burt Ward as Batman and Robin sold for $4.2 million at a classic car auction held in January by Barrett-Jackson in Scottsdale, Arizona. The seller was George Barris, the famous car customizer who first bought the 1955 Lincoln Futura concept car for exactly $1 from Ford, then transformed it into the Batmobile for 20th Century Fox Television in 1965 for the TV show, on a budget of $15,000. The buyer was Rick Champagne of Phoenix.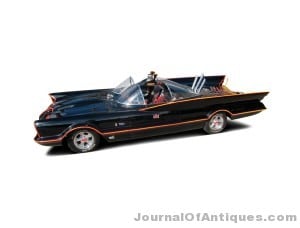 The car was hand-built in 1965 by Ghia Body Works in Turin, Italy. It was a 19-foot-long, two-seat, bubble-top grand touring car, with pearlescent frost-blue white paint finish. Ford unveiled it at the Chicago Auto Show in 1955. Barris turned it into the now-iconic midnight-black and red pinstriped crime-fighting machine, complete with bulletproof Plexiglas bubble windshields, a Bat Ray (dual 45-watt laser beams), oil squirters (made from sprinkler heads) and a Bat-O-Meter (that showed where the bad guys were).