Ken's Korner: Astounding collection of baseball cards found – The Journal of Antiques and Collectibles – September 2012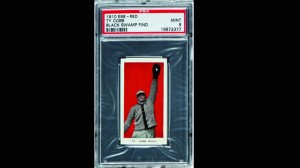 It's being called the sports memorabilia discovery of the century, "like finding the Mona Lisa in your attic." While cleaning out his late grandfather's home in Defiance, Ohio, Karl Kissner was rummaging through the attic when he found a cardboard box under a wooden doll house. Blowing away decades of soot, he opened the box and found inside around 700 cards bundled in twine. But they weren't just any cards. They were baseball cards from what is known as the E98 series, made around 1910 by an unknown card manufacturer.
Kissner wasn't sure what he'd found, but he did recognize the names: Ty Cobb, Christy Mathewson, Honus Wagner, Connie Mack and others. The cards belonged to his grandfather, Carl Hench, who died in the 1940s. He operated a meat market in Defiance, and Kissner thinks he got the cards as promotional giveaway from a candy company that distributed them with caramels. Bottom line: they're probably worth millions, especially in such pristine condition. Just 37 of the cards were expected to fetch $500,000 at auction in August.