Pop Culture Potpourri: Zombies, Gasoline Alley, Jack Kirby & Nick Fury
Zombies at Geppi's Entertainment Museum
Comic Character Collectibles
By J.C. Vaughn
In director George A. Romero's 1978 film Dawn of the Dead, one of the characters remembers what his grandfather told him and shares it with his fellow survivors of the zombie apocalypse: "When there's no more room in hell, the dead will walk the earth."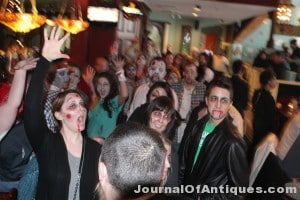 Well, GEM has put its own, much friendlier spin on it: "When there's no more room in Geppi's Entertainment Museum the dead will walk the streets of Baltimore."
March 30, 2013 marks the third annual Zombie Gras presented by GEM. The first became the museum's largest paid attendance day ever – not including more than 100 folks who staggered in free of charge because they were dressed like zombies – and the second also attracted a large crowd despite a solid dose of inclement weather. In fact, it was that bout of cold last year that led to Zombie Gras 3 (also known as "ZG3") being moved to the end of March this year.
"We will kick off the fun starting at 10 a.m. at the museum with vendors and make-up artist and special appearance by Pixilated photo booth. Since 2013 is the 35th Anniversary of the second Romero zombie movie, DAWN OF THE DEAD, GEM will play host to celebrity zombies from the cast of Dawn of the Dead," said Melissa Bowersox, GEM's President.
"At 1:00 p.m. the costume winners will be announced at Pickles Pub and the bar crawl will begin, as will the zombie scavenger hunt. Specials will continue throughout the evening," she said.
Gasoline Alley in Record Sale
The original comic strip art for the February 14, 1921 first appearance of Skeezix in Frank King's Gasoline Alley was sold in December 2012 at Russ Cochran's Comic Art Auction for $40,250. In the piece, the strip's original main character Walt Wallet finds the baby on his doorstep.
Cochran said that he sold more than 1,000 of King's Gasoline Alley originals since 2011 and has many more to offer in 2013. His most recent auction closed Thursday, January 24, but the next one will be announced soon.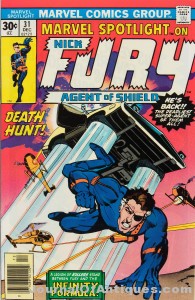 Jack Kirby's Fantastic Four #95 Cover
Perhaps no other figure contributed as much to the notions of comic book storytelling – even what stories could be told – as artist Jack Kirby.
"The number of creators and fans he influenced will never be known," said Alex Winter, General Manager of Hake's Americana & Collectibles, "but based on those who testify openly about his work's impact on them, it's easy to imagine that it's a staggering percentage."
Hake's Americana will offer Kirby's original 111D2″ x 171D2″ comic book cover art for Marvel Comics Fantastic Four #95 in its upcoming March 2013 auction, which is scheduled to go online February 27, and which will close March 19-21.
The Secret of Marvel's Nick Fury
Never mind that in the comic books he's a savvy, grizzled, Caucasian child of the Great Depression and a veteran of World War II and that in the movies he's a savvy, grizzled African-American soldier who could have served in the first Gulf War. Nicky Fury has another secret.
Periodically fans will wonder how Sgt. Nick Fury of Marvel's Sgt. Fury and His Howling Commandos, a popular war comic in the 1960s and 1970s, lived long enough to become Col. Nick Fury, the director of S.H.I.E.L.D. (which in the movie era stands for Strategic Homeland Intervention, Enforcement and Logistics Division). In other words, how is it that someone who was able to fight the Nazis during WWII, the North Koreans in the Korean War, and so on, still remain as strong and vital?
The key to solving the mystery came from writer Jim Starlin and artist Howard Chaykin in the pages of Marvel Spotlight #31 (December 1976), a frequently overlooked story. Marvel Spotlight was an anthology title with rotating features.  It's important to note that while Fury has periodically had his own title, his presence and that of S.H.I.E.L.D. has trailed through many Marvel titles and has been part of the glue that holds together what fans know as the "Marvel Universe."
The answer comes down to this: Nick Fury has been able to thrive for all these years thanks to Professor Sternberg and his Infinity Formula. During a routine mission through the French countryside during the height of World War II, Fury stumbled into a mine field and was critically injured. He would have died right there in France if a group of partisans hadn't brought him to Sternberg for treatment.
While Fury was being treated, Sternberg used him as a guinea pig for his experimental serum which substantially (but not entirely), retards the aging process. Such a formula, of course, had to have come with a downside.
In this case, the downside was that once the serum is used, it must be taken yearly to sustain its results. Being Nick Fury, though, there couldn't be just one drawback. Sternberg's serum fell into the hands of blackmailers. And that, as you might suspect, brought out Fury's… well, fury.
It remains to be seen how long the movie version of the character, played by Samuel L. Jackson, has lived.